Thursday, May 21, 2020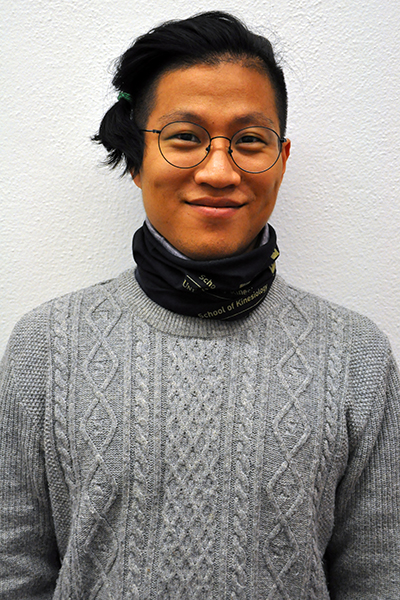 Lab members of the Human Sensorimotor Control Laboratory, Jinseok Oh and Arash Mahnan, as well as lab member in the Affordance Perception-Action Laboratory, Chris Curry, recently published a paper titled "Investigation of the effect of virtual reality on postural stability in healthy adults." The paper was published in the 2020 IEEE Conference on Virtual Reality and 3D User Interfaces Abstracts and Workshops (VRW) .
The study examined ten healthy subject's postural stability given targets at varying distances, both in virtual reality and normal environments. Their results found a significant difference in postural stability for normal anatomical stance tasks between VR and normal environments.
---
May 13, 2020 : Arash Mahnan, PhD candidate in the School of Kinesiology, presented two research papers to the virtual 2020 Design of Medical Device Conference (DMD2020). Mahnan is also a graduate researcher in the the Human Sensorimotor Control Laboratory (HSCL). The first presentation, "A new system to objectively measure ankle proprioception," describes a developed medical device that has […]
---
May 5, 2020 : Arash Mahnan, Kinesiology PhD candidate has been awarded the prestigious University of Minnesota Doctoral Dissertation Fellowship for 2020-21.  Mahnan is advised by Kinesiology professor Juergen Konczak, PhD, and is a member of the School's Human Sensorimotor Control Laboratory. Mahnan will use the funds from this fellowship to continue his work on the development of a […]
---
May 4, 2020 : Jürgen Konczak, PhD, director of the Human Sensorimotor Control Laboratory (HSCL), gave an invited presentation to the 30th Research Symposium of the National Spasmodic Dysphonia Association (NSDA) on May 2. Konczak's presentation highlighted recent research on a new non-invasive treatment to reduce voice symptoms of individuals with spasmodic dysphonia. Due to the COVID-19 pandemic, the […]
---
May 4, 2020 : The Human Sensorimotor Control Laboratory (HSCL), under Jürgen Konczak, Ph.D., movement neuroscience and biomechanics professor in the School of Kinesiology, received a $50,000 grant from the National Spasmodic Dysphonia Association (NSDA). The award will allow the HSCL to further develop non-invasive neuromodulation technology, which uses small vibrators attached to the skin above the voice box […]
---
Mar 5, 2020 : The Human Sensorimotor Control Laboratory (HSCL), directed by School of Kinesiology professor Jürgen Konczak, PhD, recently published a paper regarding cervical dystonia treatment and neuro function in the Neurorehabilitation and Neural Repair Journal. The publication, "Effect of Neck Botulinum Neurotoxin Injection on Proprioception and Somatosensory-Motor Cortical Processing in Cervical Dystonia," responds to the question, "how […]
---