Thursday, December 7, 2017: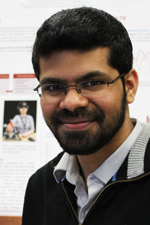 Naveen Elangovan, Ph.D., post-doctorate researcher the Human Sensorimotor Control Laboratory (HSCL), is the first author of an article titled "A robot-aided visuo-motor training that improves proprioception and spatial accuracy of untrained movement" that is published in The Nature Scientific Reports.
The study examined to what extent a sensory training of body leads to improvements in motor function.  The study found that a short 45-min training is already sufficient to see changes in the accuracy of perceiving joint position and joint movement. This project was a collaboration with engineering colleagues at Nanyang Technological University of Singapore and Harvard University, USA. Co-authors are former HSCL member Joshua Aman, Ph.D. and lab director Jürgen Konczak,  Ph.D.
---
Nov 21, 2017: Jürgen Konczak, Ph.D., professor in the School of Kinesiology and director of the Human Sensorimotor Control Laboratory, is a co-author on an article recently published in Frontiers in Human Neuroscience.  "Age-Related Decline of Wrist Position Sense and its Relationship to Specific Physical Training" examines the effects of aging on proprioception (a person's perception of their … Continue reading Konczak, Tseng publish article in Frontiers in Human Neuroscience →
---
Nov 9, 2017: Jürgen Konczak, Ph.D., professor in the School of Kinesiology is the principal investigator on an NIH funded grant program administered through the University's Office of Discovery and Translation that seeks to promote new therapies for rare diseases. The project will design and build a device that will improve the symptoms of a voice disorder called spasmodic … Continue reading NIH awards grant to Konczak lab to develop technology for treating a voice disorder →
---
Oct 31, 2017: Yu-Ting Tseng, Ph.D., 2017 graduate of the School of Kinesiology in the Biomechanics and Neuromotor Control emphasis, has been awarded a post-doc position in the Division of Child Health Research, Institute of Population Health Sciences in the National Health Research Institutes (NHRI) in Zhunan, Taiwan, starting in November. She will be conducting a study on … Continue reading Kinesiology alumna Yu-Ting Tseng awarded post-doc at National Health Research Institutes in Taiwan →
---
Oct 30, 2017: Jürgen Konczak, Ph.D., professor and director of the Human Sensorimotor Control Laboratory in the School of Kinesiology, presented October 30 at the Academic Health Center's Mini Medical School as part of their Fall 2017 series, "Medical Mysteries: Navigating Complex Health Cases." His presentation with George S. Goding, Jr., M.D., professor in the Department of Otolaryngology, was … Continue reading Konczak gives lecture at Mini Medical School →
---
Oct 16, 2017: On October 10, Juergen Konczak, Ph.D., professor in the School of Kinesiology and director of the Human Sensorimotor Control Laboratory, presented a lecture on robotic rehabilitation to the PACE network community in Genova, Italy. PACE stands for Perception and Action in Complex Environments. The network is funded by the European Union and seeks to train predoctoral students … Continue reading Konczak gives invited presentation at European workshop →
---
Oct 12, 2017: Arash Mahnan, Kinesiology Ph.D. student and IT Fellow, is one of three people featured in the Global Programs and Strategy Alliance online newsletter, Global U, promoting Driven: The University of Minnesota Campaign, the first system-wide fundraising campaign at the U of M in more than a decade. The Alliance has set a goal of raising $7 … Continue reading Mahnan featured in Global Programs and Strategy Alliance's "Global U" →
---