Monday, July 31, 2017: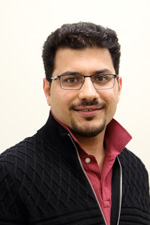 Arash Mahnan, Kinesiology Ph.D. student in Movement Science, has been appointed to the University's Senate Information Technologies Committee (SITC). The committee represents the institution's faculty, academic professional, civil service and student interests in the development, implementation, and distribution of information technologies at the U. The committee reports to the Senate and makes recommendations concerning policies and administration around information technologies.
The committee meets monthly and consists of eight faculty, four P&A, three students, and one civil service representative. The students include Mahnan, a representative from the Department of Engineering and one from the College of Continuing Education. The student representatives were chosen based on their background, experience and qualifications in the field of information technology. Mahnan will serve a two-year term on the committee.
---
Jul 21, 2017:  Juergen Konczak, Ph.D., professor in the School of Kinesiology and director of the Human Sensorimotor Control Laboratory, gave an invited presentation at a workshop at the 15th International Conference of Robotic Rehabilitation (ICORR) at the Queen Elizabeth II Centre in London, UK. The conference was a part of the London Rehab Week, where around a thousand … Continue reading Konczak presents at International Conference of Robotic Rehabilitation in London →
---
Jul 13, 2017: As part of a two-day visit to Budapest, Juergen Konczak, Ph.D., professor in the School of Kinesiology and director of the Human Sensorimotor Control Laboratory, presented his work on robotic rehabilitation to members of the Wigner Research Centre for Physics at the Hungarian Academy of Sciences and toured a new rehabilitation clinic. His Hungarian hosts comprised researchers … Continue reading Konczak gives invited presentation at the Hungarian Academy of Sciences →
---
Jul 11, 2017: School of Kinesiology professors Juergen Konczak, Ph.D., Li Li Ji, Ph.D., and Michael Wade, Ph.D.,  gave invited lectures at one international conference and three Chinese universities  from June 9 through June 15. Their talks centered broadly around a theme of exercise and healthy aging, and how age-related changes in older adults affect balance and posture. … Continue reading Three Kinesiology faculty give lectures on exercise and healthy aging in Chinese cities in June →
---
Jul 5, 2017: Kinesiology professors Juergen Konczak, Ph.D., and Michael Wade, Ph.D.,  addressed over 700 attendees of the Suzhou International Conference on Child Health Development. The conference centered around themes of how early childhood education best promotes cognitive, social, sensory and motor development. Suzhou is a city of about 10.5 million people in southeastern China. Kinesiology professor Li … Continue reading Konczak and Wade give invited talks at child health development conference in China →
---
May 23, 2017: A faculty member and doctoral student in the School of Kinesiology have been selected to receive awards from the College of Education and Human Development's Women's Philanthropic Leadership Circle (WPLC). Dahia Barr-Anderson, Ph.D., assistant professor in the School, has received the Rising Star Faculty Award of $1,500 to use for professional development.  She joins an elite group of CEHD female … Continue reading Dahia Barr-Anderson and Sanaz Khosravani receive 2017 Women's Philanthropic Leadership Circle awards →
---
May 4, 2017: Juergen Konczak, Ph.D., professor in the School of Kinesiology and director of the Human Sensorimotor Control Laboratory, spoke to an audience of about 150 international neuroscientists at the 27th annual meeting of the Society for Neural Control of Movement in Dublin, Ireland. Konczak provided an overview of his lab's research on somatosensory deficits in Parkinson's disease … Continue reading Konczak gives invited presentation at Neural Control of Movement meeting in Dublin →
---