Monday, August 20, 2018:
This year at the Minnesota State Fair, along with the usual extravaganza of food, rides and activities, and displays from across the state, School of Kinesiology research will be happening at the U of M Driven to Discover building.
The Human Sensorimotor Control Laboratory (HSCL) will be conducting a study, "Listen to your body: measures of body awareness for kids," over a period of seven days during the Fair's two-week run. Researchers will recruit children ages 5-17 years to measure how body awareness develops during childhood. HSCL has developed a set of tests that will show recruits how accurately they "know" where their hands or feet are in space, or how well they can gauge shapes by using their sense of touch. The young participants will get to experience being involved in a research project and earn a fun prize for participating.
The research team will be at the Driven to Discover building, 1367 Cosgrove St., from 9 a.m. – 2 p.m. on August 23, 27, 29, 31, and September 1. They will also be conducting the study from 2:30 p.m. – 9 p.m. on August 24 and from 9 a.m. – 6 p.m. on September 3.
"The Minnesota State Fair Driven to Discover building provides a great opportunity for data collection and recruitment," says Jessica Holst-Wolf, Ph.D. candidate and HSCL lab member. "Speaking from past experience, the families we met at the Fair were really interested in what we are doing and liked the idea of being able to contribute to scientific research."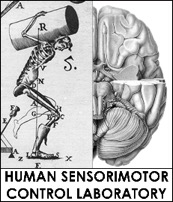 ---
Aug 13, 2018: A study conducted in the School of Kinesiology's Human Sensorimotor Control Laboratory (HSCL) was cited in a story on Wilson Sporting Goods' introduction of high-performance tennis gear that appeared in Finanzen.net. The story, "Wilson Sporting Goods Debuts 'Camo Edition' Collection Of High Performance Tennis Gear Inspired By Global Street Style," announces a new tennis racket, Pro […]
---
Jul 16, 2018: School of Kinesiology professor Jürgen Konczak, Ph.D., director of the Human Sensorimotor Control Laboratory (HSCL) has been awarded a grant from the Children's Cancer Research Fund to study somatosensory deficits in children who survived or are undergoing a cancer treatment. The $99,800 grant will support Kinesology Ph.D. candidate Jessica Holst-Wolf's postdoctoral position, and is an […]
---
May 31, 2018: Jürgen Konczak, Ph.D., School of Kinesiology professor and director of the Human Sensorimotor Control Laboratory (HSCL), is the primary investigator of a $776,000 NIH R01 award to examine a new approach to treat the voice and speech problems of people with spasmodic dysphonia (SD). Current therapeutic options for treating SD are very limited.  SD does […]
---
May 30, 2018: Sanaz Khosravani, doctoral student in the School of Kinesiology and member of the Human Sensorimotor Laboratory (HSCL), received a travel grant by the organizer of the conference Progress in Clinical Motor Control: Neurorehabilitation. The travel award provides funding for travel expenses, but furthermore the opportunity to participate in the "Progress in Motor Control Student-Faculty Meet and Greet" workshop with […]
---
May 30, 2018: Jessica Holst-Wolf, Ph.D. candidate in the School of Kinesiology, gave an invited talk at the Northwestern Mutual Childhood Cancer Survivorship Symposium on the U of M campus on April 27. The talk was a preliminary presentation of her dissertation research, measuring somatosensory deficits in individuals treated with chemotherapy for pediatric cancers. The objective was to demonstrate […]
---
May 10, 2018: Congratulations to Jürgen Konczak, Ph.D., professor in the School of Kinesiology, who received the Marty and Jack Rossmann Faculty Development Award at the College of Education and Human Development assembly on April 30. The Rossmann Award recognizes a tenured faculty member who has demonstrated a truly exceptional level of creativity and productivity in scholarship, teaching and service, […]
---