Monday, October 16, 2017: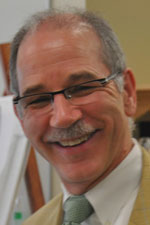 On October 10, Juergen Konczak, Ph.D., professor in the School of Kinesiology and director of the Human Sensorimotor Control Laboratory, presented a lecture on robotic rehabilitation to the PACE network community in Genova, Italy.
PACE stands for Perception and Action in Complex Environments. The network is funded by the European Union and seeks to train predoctoral students with a background in engineering, mathematics, neuroscience, and psychology.
---
Oct 12, 2017: Arash Mahnan, Kinesiology Ph.D. student and IT Fellow, is one of three people featured in the Global Programs and Strategy Alliance online newsletter, Global U, promoting Driven: The University of Minnesota Campaign, the first system-wide fundraising campaign at the U of M in more than a decade. The Alliance has set a goal of raising $7 … Continue reading Mahnan featured in Global Programs and Strategy Alliance's "Global U" →
---
Aug 30, 2017: Jürgen Konczak, Ph.D., professor in the School of Kinesiology and director of the Human Sensorimotor Control Laboratory, is the PI on a grant from the National Science Foundation (NSF) I-Corps program. This program prepares scientists and engineers to extend their focus beyond the university laboratory and to accelerate basic-research projects that are ready to move … Continue reading Konczak lab receives NSF I-corps award →
---
Aug 22, 2017: Jürgen Konczak, Ph.D., professor in the School of Kinesiology and director of the Human Sensorimotor Control Laboratory, is serving as senior personnel on a nearly $3 million training grant awarded by the National Science Foundation to develop and implement bold new graduate education in the STEM fields. The award for the project, "Graduate Training Program in … Continue reading Konczak is senior personnel on $2.9 million NSF grant →
---
Jul 31, 2017: Arash Mahnan, Kinesiology Ph.D. student in Movement Science, has been appointed to the University's Senate Information Technologies Committee (SITC). The committee represents the institution's faculty, academic professional, civil service and student interests in the development, implementation, and distribution of information technologies at the U. The committee reports to the Senate and makes recommendations concerning policies … Continue reading Kinesiology doctoral student Arash Mahnan appointed to U's Senate Information Technologies Committee →
---
Jul 21, 2017:  Juergen Konczak, Ph.D., professor in the School of Kinesiology and director of the Human Sensorimotor Control Laboratory, gave an invited presentation at a workshop at the 15th International Conference of Robotic Rehabilitation (ICORR) at the Queen Elizabeth II Centre in London, UK. The conference was a part of the London Rehab Week, where around a thousand … Continue reading Konczak presents at International Conference of Robotic Rehabilitation in London →
---
Jul 13, 2017: As part of a two-day visit to Budapest, Juergen Konczak, Ph.D., professor in the School of Kinesiology and director of the Human Sensorimotor Control Laboratory, presented his work on robotic rehabilitation to members of the Wigner Research Centre for Physics at the Hungarian Academy of Sciences and toured a new rehabilitation clinic. His Hungarian hosts comprised researchers … Continue reading Konczak gives invited presentation at the Hungarian Academy of Sciences →
---