Wednesday, May 30, 2018: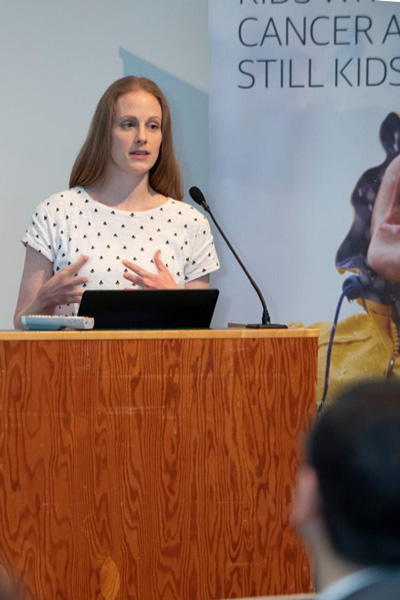 Jessica Holst-Wolf, Ph.D. candidate in the School of Kinesiology, gave an invited talk at the Northwestern Mutual Childhood Cancer Survivorship Symposium on the U of M campus on April 27.
The talk was a preliminary presentation of her dissertation research, measuring somatosensory deficits in individuals treated with chemotherapy for pediatric cancers. The objective was to demonstrate that the sensory assessments developed by the Human Sensorimotor Control Lab (HSCL) have the appropriate resolution to correlate with cancer treatment variables. If proven successful, these sensory assessments could become tools used by doctors to make more informed treatment decisions that minimize negative side effects of chemotherapy.
---
May 29, 2018: Jürgen Konczak, Ph.D., School of Kinesiology professor and director of the Human Sensorimotor Control Laboratory (HSCL), is the primary investigator of a $776,000 NIH R01 award to examine a new approach to treat the voice and speech problems of people with spasmodic dysphonia (SD). Current therapeutic options for treating SD are very limited.  SD does […]
---
May 10, 2018: Congratulations to Jürgen Konczak, Ph.D., professor in the School of Kinesiology, who received the Marty and Jack Rossmann Faculty Development Award at the College of Education and Human Development assembly on April 30. The Rossmann Award recognizes a tenured faculty member who has demonstrated a truly exceptional level of creativity and productivity in scholarship, teaching and service, […]
---
Apr 20, 2018: The Human Sensorimotor Control Laboratory (HSCL) directed by Juergen Konczak, Ph.D., professor in the School of Kinesiology, recently published in the journal Neuroscience Letters. Yu-Ting Tseng, Ph.D. a former lab member of HSCL, is the primary author of the article. Their study, titled "Wrist position sense acuity and its relation to motor dysfunction in children with developmental coordination disorder" […]
---
Mar 26, 2018: Jürgen Konczak, Ph.D., professor in the School of Kinesiology and director of the HSC Laboratory, presented at the Center for Cognitive Science (CCS) Colloquium/Perception Lunch Talks on Tuesday, March 27. The title of Konczak's talk was "Proprioception – the silent sense: What happens, if it is no longer there?" He illustrated what happens if someone experiences […]
---
Mar 19, 2018: Jürgen Konczak, Ph.D., professor in the School of Kinesiology and director of the Human Sensorimotor Control Laboratory (HSCL), has published a paper with colleagues in Behavioural Brain Research. "Consolidation of human somatosensory memory during motor learning" is a collaboration with colleagues from the Italian Institute of Technology. Dr. Anna Vera Cuppone, first author, spent 9 […]
---
Feb 12, 2018: In an interdisciplinary collaboration with partners in veterinary medicine at the University of Minnesota and the Michigan State University, researchers in the Human Sensorimotor Control Laboratory examined horses with shivers disease. An earlier study identified the previously unknown neuropathology of the disease – a degeneration of neurons in the cerebellum. Because the cerebellum is involved […]
---