Friday, May 17, 2019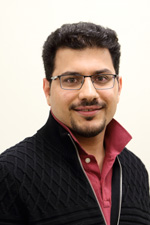 Arash Mahnan, PhD student in the School of Kinesiology, received a runner up award in the 2019 Walleye Tank Competition, Junior Anglers category, for his pitch about the medical device he is developing in the Human Sensorimotor Control Lab. The device is a non-invasive neuromodulation medical device for treatment of the voice disorder spasmodic dysphonia (SD). Read more about Mahnan's device here.

Mahnan competed against ten other companies in the Junior Anglers category, reserved for those in the early stages of business development. Through his runner up award, Mahnan received feedback regarding the commercialization and development plans he presented. Additionally, his presentation at the competition connected him with potential investors.

There were two other levels of competition, Mid-level Reelers and Professionals, reserved for those who are further along in their business idea and development. Participants had 120 seconds to explain and pitch their device followed by 3 minutes of Q&A from the judging panel.

Walleye Tank is a Minnesota based life science pitch competition which provides an educational opportunity for emerging and established medical and life science companies. Hosted by the Mayo Clinic, the Walleye Tank competition focuses on removing barriers for entrepreneurs and connecting them with an audience of investors, subject matter experts, service providers, job seekers, and mentors to help accelerate their businesses.

---
May 15, 2019 : Chris Curry, Kinesiology doctoral candidate and member of the Affordance Perception-Action Laboratory, has been awarded a $1000 NSF Research Trainee Mini-grant for lab equipment. The lab equipment will be used for two research projects that focus on Virtual Reality (VR). One project is related to Curry's dissertation research, which involves investigating ways to potentially mitigate […]
---
May 8, 2019 : Arash Mahnan, PhD student in the School of Kinesiology, was invited to present at the 30th National Spasmodic Dysphonia Association (NSDA) symposium held in Boston April 26th-27. The symposium was designed for patients with SD to meet and get the most recent updates on the current research related to SD. At the event, he discussed […]
---
May 8, 2019 : Arash Mahnan, Kinesiology PhD student, has been awarded a $3000 STARTUP Mini-Grant from MIN-CORPS for customer discovery and product development expenses for the Spasmodic Dysphonia (SD) Collar device he has been developing with colleagues in the Human Sensorimotor Control Laboratory. Spasmodic dysphonia (SD) is a voice disorder that leads to strained or choked speech, and is […]
---
Apr 23, 2019 : Arash Mahnan, School of Kinesiology PhD student in movement science and member of the Human Sensorimotor Control Laboratory (HSCL), was busy last week winning $15,000 in a medical innovation competition and presenting his research. Mahnan received third place in the Emerging Medical Innovation Valuation Competition held April 16 at McNamara Alumni Center as part of […]
---
Apr 10, 2019 : Arash Mahnan, doctoral student at the School of Kinesiology and member of the Human Sensorimotor Control (HSC) Laboratory, is the recipient of the 2019-2020 MnDRIVE Commercialization Fellowship in Neuromodulation – Discoveries through Industry Partnerships. The MNDrive (Minnesota Discovery, Research and InnoVation Economy) award will cover Mahnan for up to $70,000 in stipend, benefits, and tuition […]
---